In this tutorial we are going to make a g-diaper style waterproof pouch with snap in tabs.
First and foremost, two things:
1. You do
not
need to have a snap press or snap pliers to do this.
2. You can snap this pouch in to
any
style of diaper, not just rib-legged.
You will need:
1" X 25" strip of PUL
7 1/2" X 15 1/2 " rectangle of PUL
4 snap sets and about 1/2 yard of either twill tape or similar sturdy tab material
OR snap tape
Cut out your PUL. Direction is not important on the main piece. The long skinny piece however will function as a stretchy binding and must be cut so that the stretch goes horizontally with the legnth.
Round off the corners of the main piece. I do this by folding it in quarters and cutting them at once.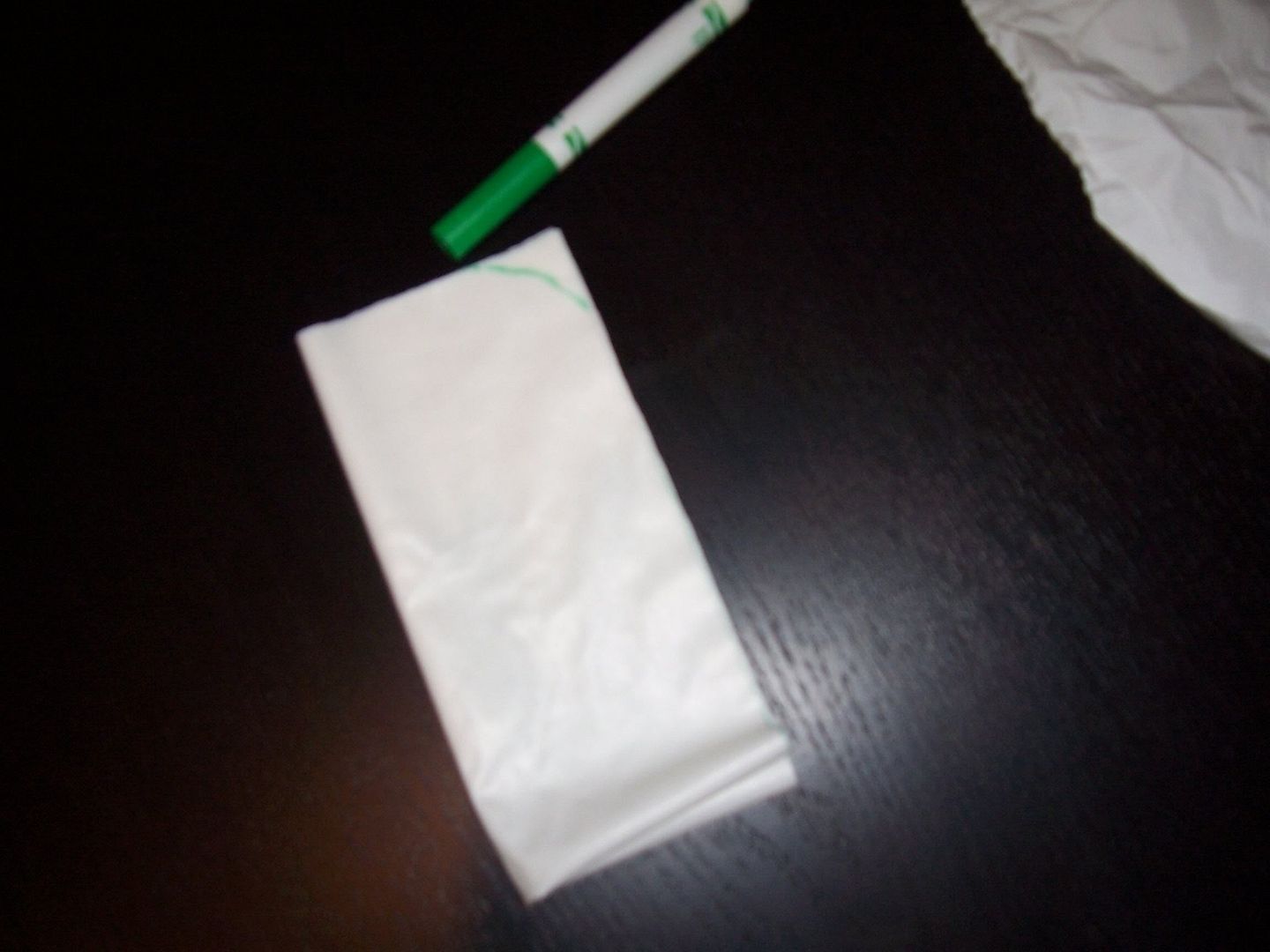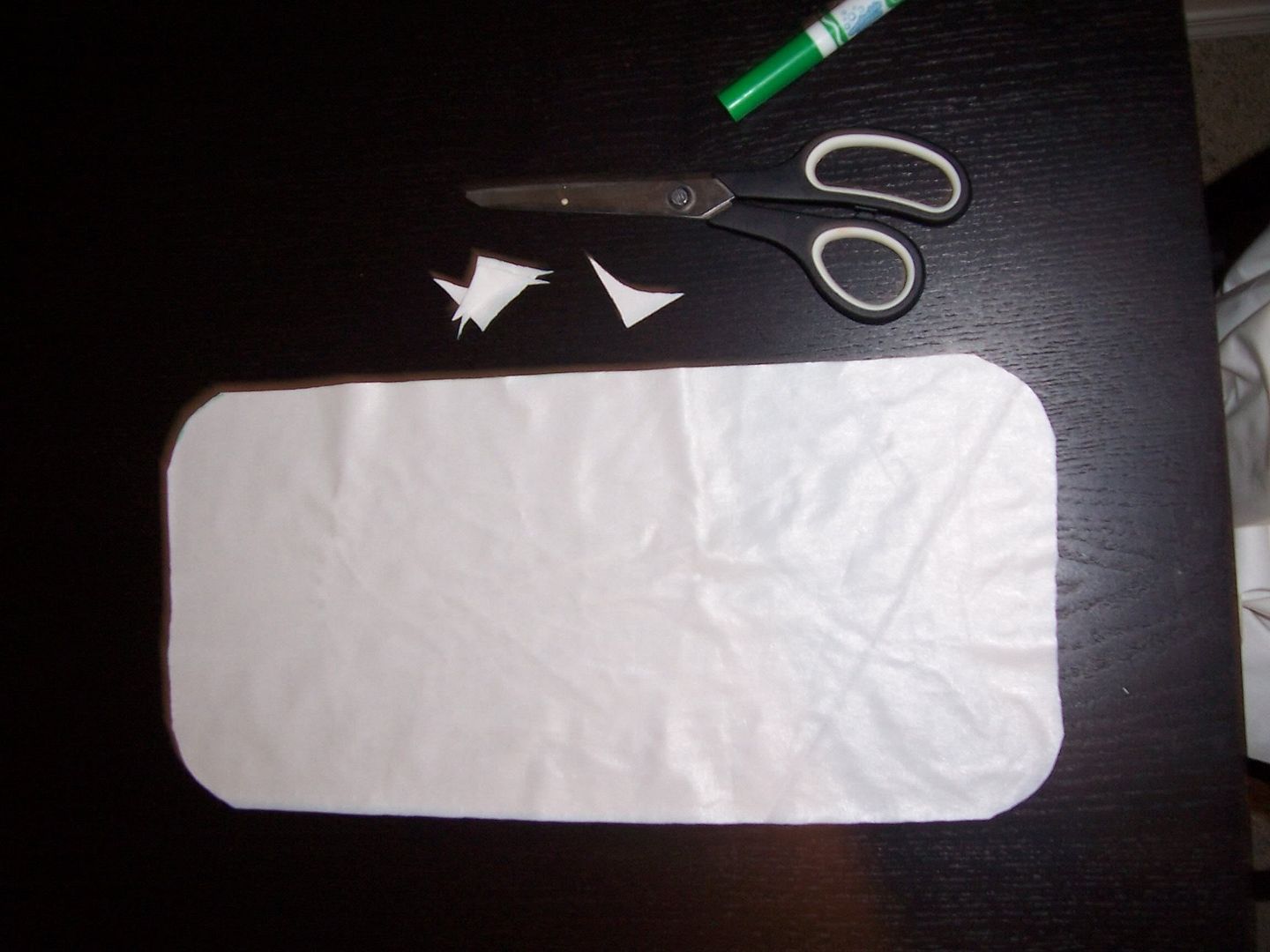 All right, so we need snaps...on tabs. Simple solution, just cut apart snap tape. It's not has hard to come by snap tape as you might think. You can find it it near the elastics at Joann's and Hancocks, as well as at any number of online notions shops. With a quick search lookie what I found.
This place
stocks all sorts of it,even elastic snap tape. (Now that could have some really innovative diaper design applications.) I am pretty sure at least one of those is compatible with the snap tape used on actual G's.
OR if you have a clinical obsession with sewing cloth diapers, as I clearly do, you own your own snap press. So in that case, make your own snap tape, you craft snob.
You want these tabs to stick out about an inch, so space them out a little more than that, better safe than srry. You can see how ravely these tabs get very quickly so either singe the ends or use fray check or clear nail polish or whatever. If you want to get fancy, make the tabs long enough to fold back over the cap side of the snap and sew both ends in to the seam on the pouch. That will also prevent the snap from touching the baby.
Sew the snap tabs onto the PUL. Remember you want the shiny side facing up, so if you want your snaps facing down pay attention to the direction you face them.
The point of using PUL as the binding here rather than FOE, is that PUL is waterproof. SO, to get the best results you want to fold the binding shiny side out. Doing it the other way around will work, and it will still be more waterproof than anything else you might use for binding but the fabric has the potential to transfer moisture to the outer part of the dipaer, thus leak. Plus, if you use shiny side out, you can wipe it clean.
If you are an overacheiver, you can iron your PUL binding strip in half legnthwise to make a tape but its really not necessairy. The stuff is going to curl up when you stretch it anyway. If you do iron, place a thin piece of fabric over the pul so it doesn't get all stretched out and wonky.
I do not double fold the binding because like I said, it curls in when stretched. It is tricky, but with a little practice and patience you can get the raw edges to curl in as you sew. If not, it's ok to leave the edges exposed. Its not scratchy and it doesn't fray.
Just fold the binding over and stretch as you sew. Be careful not to stretch the main fabric too. It is tricky. Just go ahead and expect to screw up the first one (I did), that way you will be proud if you get it right on the first try. Just sew a few inches at a time, stop with your needle down and adjust your grip. Go slow on the corners.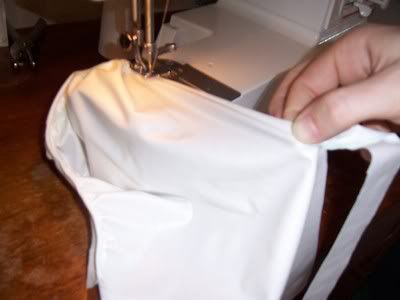 Reeeeealy stretch. If you don't stretch hard enough you wont have enough of a "pouch" to hold anything in. It could get ugly.
Be sure to fold your snap tabs down in the correct direction.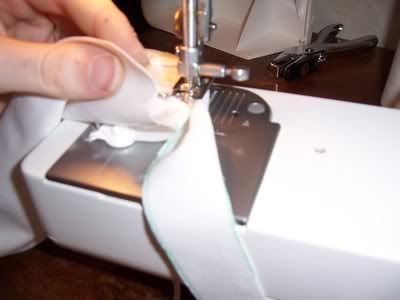 And there we have it. When you make it back around to the start you can fold under the end or just overlap the start of the binding and leave the edge raw.
If you are making a g-style diaper to go along with the pouch, sew the other set of tabs into the waistband. If you are using another style diaper (or even if not), it may be easier to snap directly into the diaper. Here is the pouch in a
Fattycakes
fitted. Since it had no attached insert it works great with the pouch, just be sure to get the wings in front of the pouch if you are using a front snapping diaper.